Money and Finance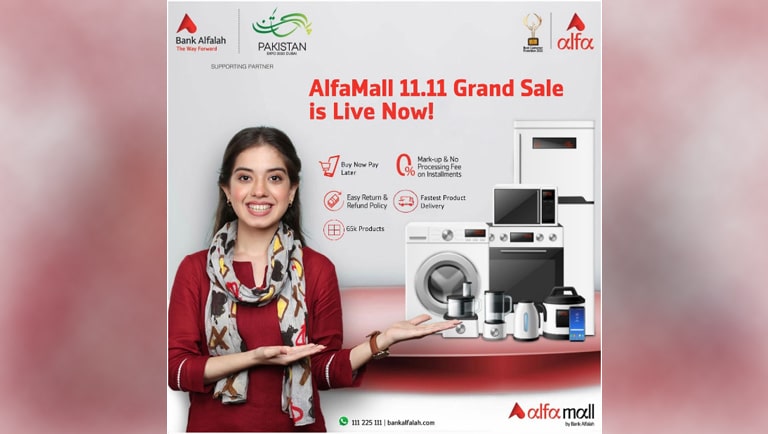 AlfaMall Grand Sale 11.11
AlfaMall is Bank Alfalah's revolutionary e-marketplace for merchants and customers, that is aimed at 'Building Trust' amongst them through a wide range of benefits. Taking a substantial stride in this regard, AlfaMall has announced a Grand Year-End Sale on 11.11, bringing a huge opportunity for all online shoppers, to access the platform and shop for their favorite products. ­
NICL stresses on innovation in SMEs at EU Pakistan Business Forum
Fatima Fertilizer addresses climate change at Expo 2020 Dubai
Farmer Convention for Wheat Cultivation – Rabi 2021-22
What is the Fastest Growing ISO Certification in the World?
This Grand Sale is extensive with over 65,000 products including smartphones, accessories, electronics, bikes, and travel packages to name a few. Additionally, customers have a chance to avail installment plans with 0% mark-up, extending up to 18 months. AlfaMall is not exclusive to Bank Alfalah customers only, customers of any bank or credit card holders can shop freely at Alfa Mall. The unique 11.11 Sale allows everyone to be a winner with a flat discount of Rs. 2,000.
AlfaMall comprises local businesses and individuals offering an assortment of products at "lower than market prices", along with free shipping to customers' doorsteps. Merchants affiliated with AlfaMall are aggressively participating in the sale by offering lucrative discounts, rapid delivery, and easy return & refund option. Simultaneously, merchants get low discount rates, digital and swift payments for the promotion of their businesses.
Fall in Love with the Blazing Fast Performance of realme C21Y
Get realme C21Y on Daraz for PKR 20999
realme C21Y Now Available in Pakistan
Promising Real Performance realme C21Y
realme C21 Now at an Affordable Price of PKR 17,999/-
realme C25s Receives Rave Reviews
One merchant associated with AlfaMall shared his feedback about the platform stating; "Our goal with AlfaMall 11.11 Grand Sale is to create a one-stop-shop for customers of Bank Alfalah as well as other banks to be able to buy their desired products at discounted prices and pay as per their own convenience on the installment plan. This Grand Sale is a win-win collaboration between AlfaMall and merchants like us which has proven to be extremely beneficial for both parties."
AlfaMall's Grand Year-End Sale will remain live from 5th to 15th November. Customers can simply login to their Alfa app or visit the AlfaMall website for a seamless online shopping experience with loads of benefits.