News & Events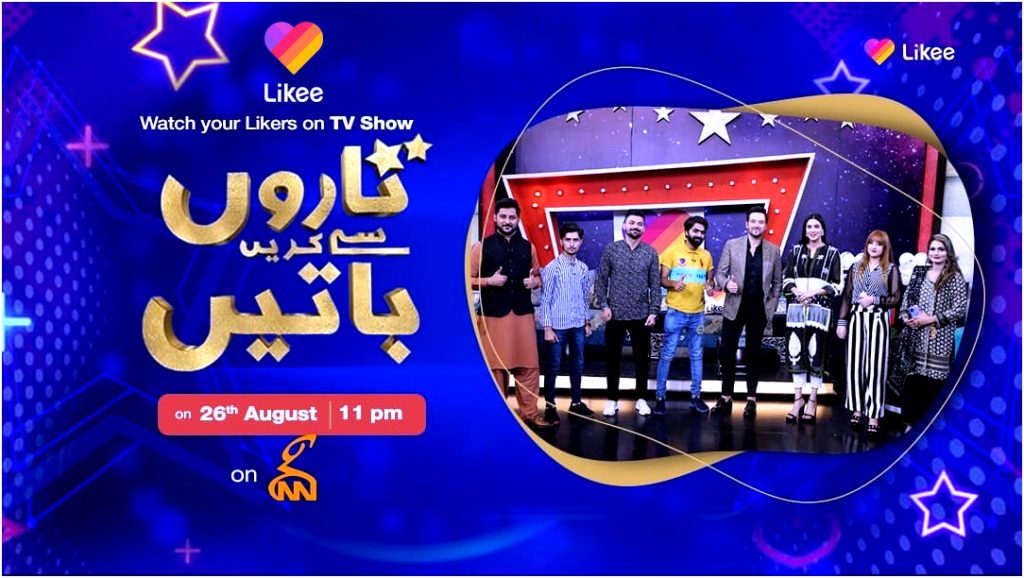 Winners of Likee Team enjoyed the spotlight
Winners of Likee Team enjoyed the spotlight
Winners of Likee Team enjoyed the spotlight, Likee, one of Pakistan's leading short video sharing platforms, recently announced the winners of its Likee Team contest. Six of the ten members from 'Team Saifu', including; Basit Bashu, Laila, Syed Umair Hassan, Iram Saleem, Syed Ali Haider and Saif ur Rehman appeared on GNN's popular show; 'Taron Sey Karen Batain' with Fiza Ali.
The show appearance which featured popular actor Mikaal Zulfiqar as a special guest, was part of the team's victory celebrations, offering them a chance to acquire more exposure and their content to be highlighted amongst the general public.
The "Likee Team" contest began on March 26th and was active till May 14th. The contest brought together a diverse range of talented content creators from across the country. Inspiring to shed light on the efforts of these creators and to acknowledge their hard work, Likee granted them an opportunity to appear on primetime television. The winning 'Team Saifu' talked about the type of content they produce while getting a chance to interact with Mikaal, indulging in a candid conversation on screen. Mikaal generously invited the creators to his newly inaugurated beauty salon for a tour and to avail their services.
Short videos are quickly becoming the format of choice for various audiences across the globe. Likee Pakistan has been revolutionizing the space in Pakistan with its unique business models which not only allows various creators to bring their content to life but also empowers them through a chance at financial independence as well as stability. The Likee Team contest is one of the platform's most successful initiatives that brought content creators from around the country together vying for a host of lucrative prizes.
The winners of the contest were selected on the basis of post engagement, giving audiences a chance to pick the team which rises to the top. 'Team Saifu' were declared the champions earning them an opportunity to shine in new lights through promotions on several mediums including conventional as well as digital. Likee launched in Pakistan during the end of 2020 following more than one million downloads from the country. Since then, the platform has achieved significant milestones while building a substantial following for itself across the nation.
---
---
About Likee
Likee is a leading global platform for creating, viewing, and sharing short-form mobile videos. Its superior video editing tools inspire real-life creativity with over 2,000 effects. Likee offers you an opportunity not only to be seen and heard but also to shine. Here you belong to a creative community that never stops making a rainbow of videos and interacting as a family.
Made by Singapore-based BIGO Technology and launched in 2017, Likee has been one of the most popular short-video communities in the world and ranked the fourth most downloaded social media app worldwide according to Sensor Tower in January 2020.
---
External Links
Source: https://www.mediamatters.com.pk/