Travel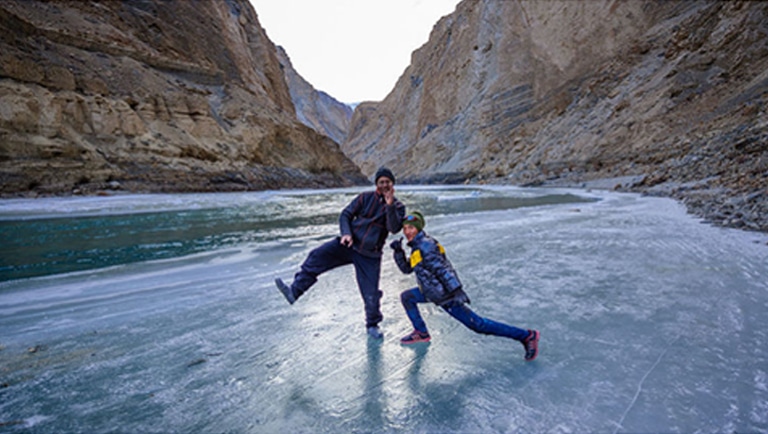 A Mesmerizing Experience Chadar Trek
Chadar Trek is one of the glamorous and glorious treks in Leh, India. This trek is full of adventure, thrill, wonderful places etc. this trek is included under the toughest treks to do in India. In this trek, trekkers will find a lot of difficulties and challenges. And one of the most difficult challenges is to cross the frozen river, which is covered with a thick layer of snow. During the trek, trekkers can also interact with the locals of this region. Tourists also enjoy the marvelous mountains, beautiful lakes, frozen rivers, and magnificent waterfalls. It is recommended to trek in the season of winter. The trekking distance of this trek is 62 km.
The trek is of 9 days
Day 1- Reach Leh by flight
Day 2- Tourists can sightseeing at monasteries and Hall of Fame etc.
Day 3- wake up early in the morning for medical tests. In the state of Jammu & Kashmir, a medical checkup is necessary, before going for the trek. Also for trekkers, some other documents will be issued such as insurance, wildlife permits etc.
Day 4- Followed by the trek, travel from Leh to Shingra Koma at 11,400 ft and Tsomo Paldar at 0,400 ft.
Day 5- There is a trek of 15 km from Tsomo Paldar to the Tibb Cave, altitude of 10,800 ft.
Day 6- Have to do a trek from Tibb Cave to Nerak at 11,100 ft of 13 km, it will take around 6 to 7 hours. In Nerak is the first village of the Zanskar region and tourists would find a frozen waterfall which is very popular here.
Day 7- today, a 13 km trek to Tibb Cave from Nerak. It is a 5 to 6 hours journey.
Day 8- Shingra Koma from Tibb Cave at 10,400 ft. covers 13 km, then it will be a drive of 70 km which will take 3 to 4 hours to Leh.
Day 9- Check out the guesthouse in Leh, next day departure from Leh and fly back home.
Points To Be Noted
Must carry a litter bag during the trek for collecting the leftovers and make the trek an eco-friendly zone.
It is recommended to keep warm and heavy woolen clothes because of the winter season.
Do not carry sports shoes or casual shoes.
This trek allows tourists to meet locals and monks. Remember not to pinpoint any of the things and say bad about them, as it may take offense.
One of the most important points, before choosing the camping spot, be aware of all the conditions like snowy and ice surfaces.
Do not forget to keep the First Aid Kit during the trek.
Always share the schedule of the trek with family members and friends. This will help in the case of an emergency during the trek.
Must keep sufficient food items because there are chances of food scarcity.
Suitable time to visit this place
It is suggested to visit this place during winters because in the winter season tourists can enjoy the snowfall. Especially in the month from January to February.
The temperature of this place
During the months of January and February, the temperature would be-
At day- -5 degrees Celsius to -15 degrees Celsius
At night- -15 degree Celsius to -25 degree Celsius
Tourists also experience many other things
Camping with the family members and friends in stargazing nights.
Interacting with the local people of the region and learning about their lifestyle, culture, it will be an amazing experience.
All the places have picturesque views, tourists must click beautiful and stunning pictures here.
Tourists also get a chance to see wild animals such as foxes, ibex, and snow leopards.
Tourists also go to see the popular waterfall i.e. frozen waterfall.
Tourists can also explore the wonderful caves during the trek.
Conclusion
So here are all the details about the Chadar Trek. Everyone in their lifetime must go for this trek because this trek provides us with mesmerizing and amazing experiences with beautiful scenic views. This trek is affordable to everyone as its price is not too high. Tourists must visit the village of this region and meet the local people of that place. They will provide them with the best hospitality. And also do not forget to taste one of the delicious local foods of that place. This trek difficulty level is moderate to difficult and non-experienced trekkers should not try to perform this trek. This trek should only be done by experienced trekkers.
---
---
Disclaimer – Images are license to their respective owners.