Fashion & Trends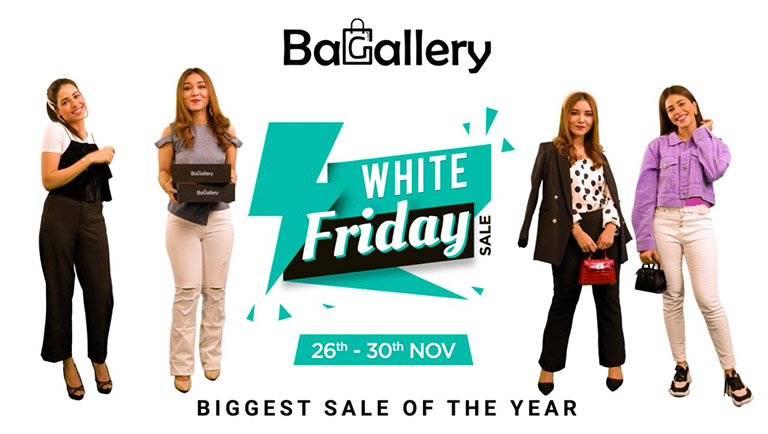 Bagallery's Biggest White Friday Sale
Pakistan's biggest beauty & fashion online retailer, Bagallery has announced the dates of its White Friday Sale this year. The White Friday Sale of Bagallery will go live on 26th Nov, 2021 and will be ending on 30th Nov, 2021. The excitement and countdown of the biggest White Friday Sale by Bagallery has already started. Bagallery is offering the most amazing discount deals on your favorite beauty and fashion brands. Bagallery's Biggest White Friday Sale.
Bagallery announces the dates of Biggest Fashion sale of the Year
Trendy Types of Earrings for 2021
3 Best Tips to Make a Good Cosmetic Box
4 Easy Hijab Styles for Weddings
How to Choose the Best Bed Sheets in Pakistan
Now consumers can add value to their attires with the products of their favorite brands. During the White Friday sale of Bagallery, the shoppers will be able to enjoy exclusive deals on all brands with 100 Killer Deals in up to 90% off. The first 500 lucky customers will get their orders for free. There will be free gifts like mystery boxes and much more with every order made during the White Friday Sale. Customers will also be able to avail of additional discounts on prepaid cards across the campaign.
Upgrade your Lifestyle this year with Bagallery's Biggest White Friday Sale
"With the aim to enhance its title, Bagallery has promised to deliver the finest items to its customers all over Pakistan. Bagallery has grown expeditiously by gaining 100% trust from its valuable patrons. The main goal of Bagallery is to create a strong, unbreakable bond with the buyers by ensuring the authenticity of its products."

The Co-founder and CEO of Bagallery Mr. Salman Sattar expressed his gratitude by saying:
Bagallery has around 30,000+ products with 2000+ registered brands to give the best to its purchasers with all the variety in fashion and beauty products in the lowest prices in Pakistan. To cater to the needs of the users Bagallery has also improved its customer service and delivery time so the deliveries are done on time without any delays. Bagallery is working around the clock to provide consumers with the best service through its website. Bagallery's Biggest White Friday Sale,
NICL stresses on innovation in SMEs at EU Pakistan Business Forum
Fatima Fertilizer addresses climate change at Expo 2020 Dubai
Farmer Convention for Wheat Cultivation – Rabi 2021-22
What is the Fastest Growing ISO Certification in the World?
About Bagallery
Bagallery is Pakistan's #1 Fashion, Beauty and Lifestyle e-commerce shopping destination with a very strong mix of the local and imported brand portfolio. Founded in 2017, the company has had immense success with one of the best influencer networks in Pakistan. Their vision is to be the preferred fashion, beauty and lifestyle shopping destination for women and men alike. Their head office is in Karachi with a team of young and highly motivated individuals who have been instrumental in the success of the company.