Travel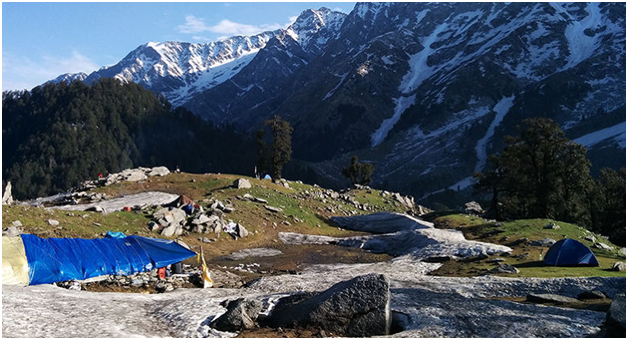 Best Short Treks in Himachal Pradesh
Best Short Treks in Himachal Pradesh
Since ancient times, the forlorn elegance of this Himalayan state in North India has enchanted many souls. There is no shortage of divine contentment in this place, from holy dwellings to charming hamlets, wheezing brooks to glacial lakes, beautiful green pastures to snow-capped peaks. But perhaps Himachal Pradesh's greatest legacy is the innumerable trekking trails that allow visitors to explore its natural beauty and take shelter in the wilds. Here are a few of the best short treks in Himachal that you can do this weekend to recharge your batteries for the upcoming week. Best Short Treks in Himachal Pradesh.
Triund Trek
In Himachal Pradesh, the Triund trek is a famous beginner's trek. Triund trek begins in McLeodganj and continues to follow a mesmerizing trail with breathtaking views of the Dhauladhar range on one side and the gorgeous Kangra Valley on the other. The trek up until the first checkpoint at Gallu Devi Temple is fairly generic and banal, but then the forest begins. As you cross by the temple, you can wish and hope for the comfortable and secure finish of your trip. Even for novices, the route to the hilltop is convenient and straightforward, taking only 3-4 hours per side.
Kheerganga trek
Kheerganga is one of the most popular treks from Kasol in the stunning Parvati Valley. Kheerganga, in actuality, is a divine sight, and the trail leading up to it is adorned with tremendous stunning features. You can take a bus or taxi from Kasol or Manikaran, or fly directly from Bhuntar airport, to reach Barshaini, the basecamp of the Kheerganga trek. From there, it's a simple 11-12 km uphill trek. It is easily covered in 5-6 hours, even with regular breaks for meals, and rests in the middle at the few local coffee shops with vibrant roofs that dot the path. On your way, you'll pass through the tiny village of Nakthan as well as a Shiva shrine at Rudranag Temple. You'll also see spacious green pastures atop rugged cliffs, interrupted by bubbling hot springs. At the conference of Kheerganga, there is an organic hot water pool called Parvati Kund, where travelers can refresh themselves after a long day of hiking. Set up a tent at Kheerganga and spend the night under the stars. The following day, return to Barshaini and catch a bus to Kasol.
Patalsu Trek
Patalsu Peak trek, like so many other absolutely astounding Himachal Pradesh treks, commences in Solang Nallah, connected to Manali. The trail winds through accessible alpine grasslands, limited ridges, moraine paths, as well as closely packed oak and pine woodlands before reaching Mount Patalsu's peak at 4,250 meters. You can predict to have some intriguing bird-watching experiences along the way and see species such as monals as well as pheasants.
Kareri Lake Trek
All you need is a weekend getaway to finish this magnificent quirky trek in Himachal Pradesh's Kangra district. To get to the glacial Kareri Lake, which is created by water streams splashing down from the Minkiani Peak, you must first travel to the beautiful town of Dharamshala. From there, you'll walk about 25 kilometers to Kareri Village, then another 6 kilometers to Liyoti Village, where you'll spend the night among the local Gaddi tribe. The following day, take a stroll through oak, pine, as well as rhododendron forests and up steep ascents along the Kareri Nallah and Nyund Nallah creeks to reach the Reoti village campground. It will take a few alpine fields and wooden bridges along all crevasses to approach the mountainous Kareri from there.
Prashar Lake Trek
It's one of the best short treks in Himachal, and it is ideal for beginners. There are two routes to Prashar Lake: one via Baggi Village and the other via Jwalapur Village.. On the first day, arrive in Panarsa early in the morning and prepare for the day's trek. Take a cab for 25 kilometers to Jwalapur village and enjoy the great landscapes on the way. Begin your walk from the village, passing through small Himachali hamlets with views of the Dhauladhar, Kinnaur, as well as Pirpanjal ranges on all edges. The road quickly transitions into dense forests, which become fairly quiet as you go further in. After 4-5 hours of hiking, you will arrive at the breathtaking Prashar Lake.
---