Food & Drinks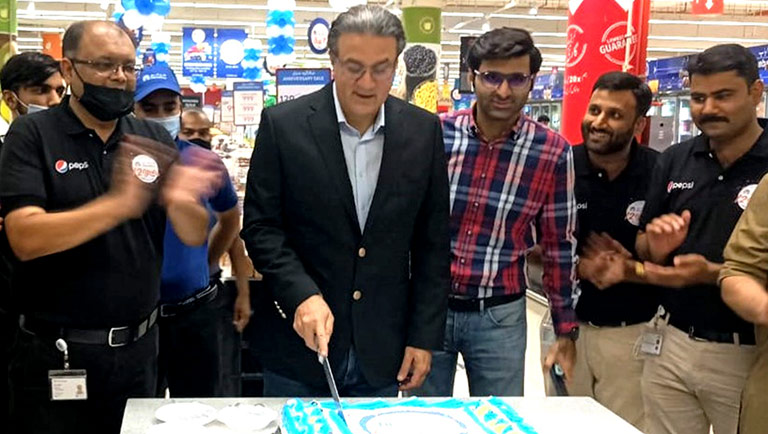 Carrefour Celebrates its 12th Anniversary
Carrefour, owned and operated by Majid Al Futtaim in Pakistan, is celebrating its 12th year anniversary in the country by giving its loyal customers the opportunity to win grand prizes. During the 14-day extravaganza from 28 October to 10 November 2021, customers will be eligible to win prizes worth more than Rs. 10 million at a minimum shopping of Rs. 4000. This is in addition to the incredible discounts on selected products. Carrefour Pakistan Celebrates its 12th Anniversary with Customers in a Grand Way.
NICL stresses on innovation in SMEs at EU Pakistan Business Forum
Fatima Fertilizer addresses climate change at Expo 2020 Dubai
Farmer Convention for Wheat Cultivation – Rabi 2021-22
What is the Fastest Growing ISO Certification in the World?
The deals will be available across all Carrefour stores in Karachi, Lahore, Islamabad, and Faisalabad. Some lucky winners from these cities will also be able to fly to Turkey or drive away in the grand Toyota Yaris by the end of the campaign. Other exciting prizes that are waiting to be won by customers include gold coins, LEDs, mobile phones, motorbikes, and automatic washing machines. The discounts do not just stop there as Carrefour is mindful of the importance of necessary items that customers use on a daily basis, and that is why it is offering generous discounts of up to 50 percent across categories of fresh produce, electronics, sports equipment, health, beauty, and homeware. Carrefour Pakistan Celebrates its 12th Anniversary with Customers in a Grand Way.
Speaking at the occasion, Umer Lodhi, Country Manager of Carrefour Pakistan at Majid Al Futtaim Retail, said: "For 12 years, Carrefour Pakistan has been serving its customers in the most efficient and innovative ways to offer them more choice at competitive prices. Through this celebration, we are rewarding our loyal customers to make their shopping moments even greater with us by helping them win and save more on items of their daily needs."
Burger King partners with foodpanda
Mediterranean Diet Food List 2021: An Ultimate Guide
Five Sweetest Sweet Dishes according to ZeeWish
To avail of these unmissable offers and unbeatable prices online, customers can also download the MAF Carrefour App from the Google Play Store and Apple's App Store for mobile shopping. This further reflects Carrefour's mission of incorporating smarter and more convenient tech-driven ways for customers. Alternatively, customers can visit www.carrefour.pk for the chance to shop and win big. For more information, stay tuned to Carrefour Pakistan's Facebook and Instagram pages.
---
About Majid Al Futtaim
Founded in 1992, Majid Al Futtaim is the leading shopping mall, communities, retail and leisure pioneer across the Middle East, Africa and Asia.
A remarkable business success story, Majid Al Futtaim started from one man's vision to transform the face of shopping, entertainment and leisure to 'create great moments for everyone, every day. It has since grown into one of the United Arab Emirates' most respected and successful businesses spanning 17 international markets, employing more than 43,000 people, and obtaining the highest credit rating (BBB) among privately-held corporates in the region.
Majid Al Futtaim owns and operates 29 shopping malls, 13 hotels and four mixed-use communities, with further developments underway in the region. The shopping malls portfolio includes Mall of the Emirates, Mall of Egypt, Mall of Oman, City Centre malls, My City Centre neighborhood centers, and five community malls which are in a joint venture with the Government of Sharjah. The Company is the exclusive franchisee for Carrefour in over 30 markets across the Middle East, Africa and Asia, operating a portfolio of more than 375 outlets including City+, the region's first checkout-free store, and an online store.
The Company is parent to a Fashion, Home and Specialty retail business representing international brands such as Abercrombie & Fitch, Hollister, AllSaints, lululemon Athletica, Crate & Barrel, Maisons du Monde, LEGO and THAT, a Majid Al Futtaim fashion concept store and app. In addition, Majid Al Futtaim operates Enova, a facility and energy management company, through a joint venture operation with Veolia, a global leader in optimized environment resource management.