Food & Drinks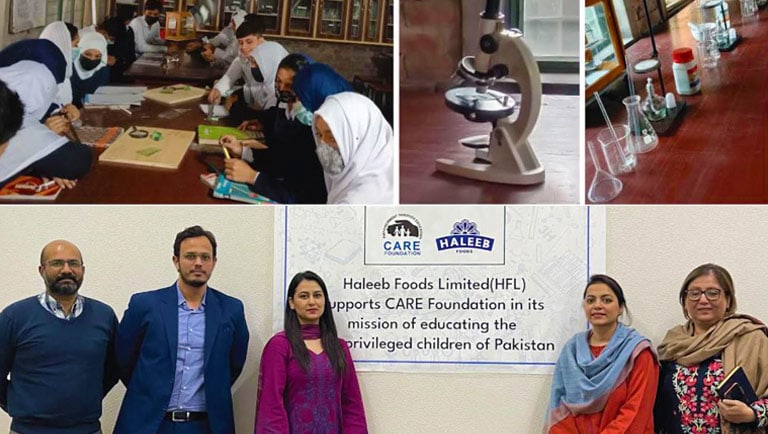 Haleeb Foods joined hands with CARE Foundation
Haleeb Foods Limited, the pioneer dairy and beverages processor in Pakistan has partnered with CARE Foundation for Universal Children's Day with an aim to support the education of underprivileged children. This partnership is an enhancement to HFL's corporate social responsibility agenda. CARE Foundation has been doing remarkable work in educating thousands of underprivileged children and nurturing our future generations. To be an active part of this initiative, Haleeb Foods has donated to equip the science lab. Haleeb Foods joined hands with CARE Foundation.
Burger King partners with foodpanda
Mediterranean Diet Food List 2021: An Ultimate Guide
Five Sweetest Sweet Dishes according to ZeeWish
Sharing his view on this collaboration, CEO, Haleeb Foods – Mr. Syed Mazher Iqbal said: "At Haleeb Foods' we strongly believe in working towards a better tomorrow and for this reason, we have collaborated with CARE Foundation to help provide better education to the young minds who are our nation's future." HFL, being a responsible corporate entity, has always shown strong dedication towards the well-being and betterment of society and this alliance is yet another embodiment of it. The company has joined hands with many renowned organizations in the past to support the local community and give back, especially during these challenging times. Haleeb Foods joined hands with CARE Foundation.
About HFL
Established in 1984, Haleeb Foods Ltd. is one of the pioneers of the dairy sector in Pakistan. With a strong emphasis on the nutrition, health and well-being of its consumers, Haleeb Foods Ltd. uses world-class dairy processing methods. Our portfolio includes many of Pakistan's favorite brands, comprising of a diverse portfolio of delicious and quality products ranging from milk to juices and pure ghee.
Haleeb Foods operates state-of-the-art dairy processing plants in BhaiPheru and Rahim Yar Khan and has a milk collection network of over 170 collection points. The company's production processes are certified in accordance with stringent quality standards such as ISO 9001: 2008 Quality Management system, FSSC 22000:2005 Food Safety Certification system, ISO 14001:2015 Environment Management system, Halal Foods Management System and Pakistan Standards Quality Control Authority (PSQCA) licensing (Product certified).