Money and Finance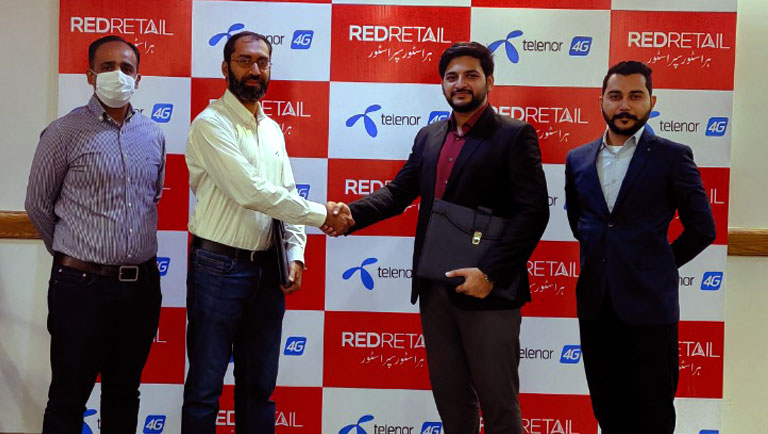 REDRETAIL to Offer Mobile Top Up Solutions
REDRETAIL to Offer Mobile Top Up Solutions through retail stores across the country
Karachi, October 12, 2021: REDRETAIL (a venture of REDtone Group) has recently signed an agreement to enable mobile payment services at retail stores across Pakistan in partnership with Telenor Pakistan. Under the agreement, REDRETAIL will now offer mobile top-up integration with additional value-added features at Kiryana stores.
Pakistan's retail and financial industry have grown leaps and bounds during the pandemic. Through this collaboration, consumers will have the ease to make mobile top-up related payments at their neighborhood stores. This initiative is in line with the company's aim of providing next-generation financial services at Kiryana stores. REDRETAIL to Offer Mobile Top Up Solutions through retail stores across the country.
Mobilink Bank the 'Best Retail Bank in Pakistan'
Mobilink Bank puts Forth Policy Recommendations
REDRETAIL to Offer Mobile Top Up Solutions
JazzCash Brings You Mastercard
Wateen Telecom partners with Punjab Group of Colleges
Zong Wins the 4G Spectrum Auction in AJK & GB
"REDRETAIL is on a mission to digitize the retail landscape and offer financial inclusion and digital services to communities across Pakistan. With over a million retail/kiryana stores across almost every corner of Pakistan; augmenting these existing channels and turning them into financial and telecommunication services hubs is how we can evolve and leapfrog as an enabled economy. We are excited to be working with Telenor Pakistan on this front."

Sharing her views on the agreement, Mahnoor Nadeem, Vice President, REDtone Group said
This agreement with Telenor Pakistan is a testament that REDRETAIL's collaboration with a leading telecom and digital services provider of Pakistan will ensure top quality and seamless services via REDRETAIL's product offerings. Recently the government has taken up several initiatives towards financial inclusion and this looks like a step in the right direction.
---
A Daily Chance to Win Up To PKR 100000 with Easypaisa
Easypaisa launches Pakistan's 'digital-first' campaign for Easyload
Easypaisa joins hands with DigiKhata
Easypaisa Reaffirms its Commitment to a Cashless Pakistan
Easypaisa bags 7 Accolades at Effie Awards 2021
COVID-19 Vaccination Certificate through Easypaisa
---
About REDRETAIL
REDRETAIL, a venture of the REDtone Group, is financial inclusion and retail digitization platform that is working aggressively to digitize the retail/kiryana store space across Pakistan. Through REDRETAIL's proprietary hardware and software ePOS solution, retailers can manage their inventory, distributor/manufacturer relationship and consumer hyperlocal deliveries.