Money and Finance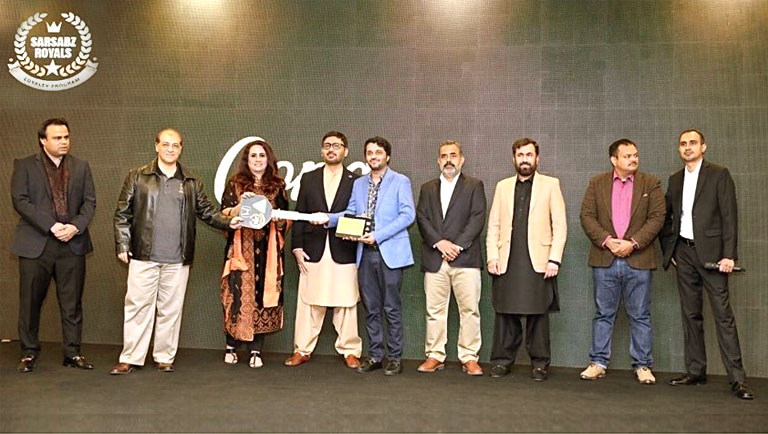 Sarsabz Royals Awards 2020-21
Sarsabz Fertilizer hosted a special awards ceremony at a local hotel in Bhurban on Thursday, October 28, 2021, as part of its loyalty program 'Sarsabz Royals', to reward and recognize its top-performing dealers from around the country. More than 150 active dealers from all over Pakistan enthusiastically registered to participate in these annual performance awards while the most performing dealers were recognized with special achievement gifts and prizes. Sarsabz Royals Awards 2020-21 Rewards Top-Performing Dealers.
NICL stresses on innovation in SMEs at EU Pakistan Business Forum
Fatima Fertilizer addresses climate change at Expo 2020 Dubai
Farmer Convention for Wheat Cultivation – Rabi 2021-22
What is the Fastest Growing ISO Certification in the World?
The dealers were overwhelmed at earning this recognition and attributed their success to Fatima Group for its professional support in highlighting the important role being played by them in ensuring the availability of fertilizer across the country for Pakistani farmers. Top officials from Fatima Group attended the event including Khurram Javed Maqbool, Director Marketing and Sales, Rabel Sadozai, National Marketing Manager and Asim Abro, National Sales Manager. 
"Sarsabz dealers are the backbone of our operations to ensure ample availability of fertilizer for farmers across the Country. Through our Sarsabz Royals platform, we aim to highlight and recognize the important role played by Sarsabz dealers to protect national food security and their continued support towards Pakistan's Economic Prosperity through agriculture", said Khurram Javed Maqbool, Director Marketing at Fatima Group.
Burger King partners with foodpanda
Mediterranean Diet Food List 2021: An Ultimate Guide
Five Sweetest Sweet Dishes according to ZeeWish
The event concluded at a high note where all participating dealers pledged to continue playing a vital role in advising the farmers on achieving maximum crop yield i.e. 10% more with the unique combination of Sarsabz CAN and NP fertilizers during the ongoing Rabi 2021-22 season. Sarsabz Fertilizer has long been a strong advocate of giving due importance and recognition to Pakistan's underserved farmers in order to curb national food security challenges in the face of constantly increasing population and food demand. Sarsabz Royals Awards 2020-21 Rewards Top-Performing Dealers.
---