Health & Fitness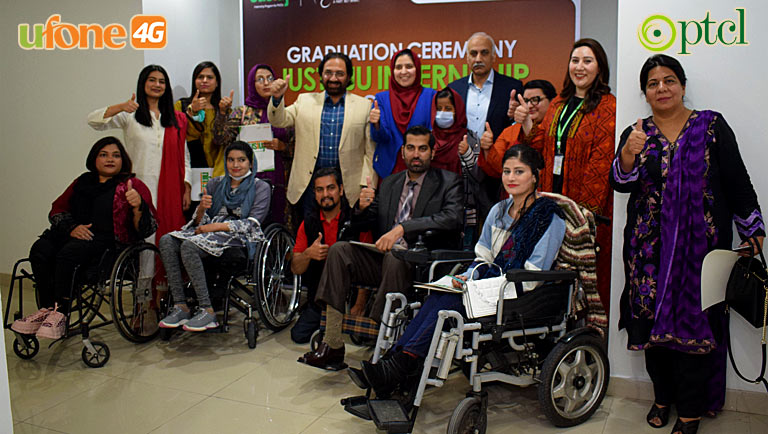 PTCL Group marks the Int'l Day of Persons with Disabilities
Pakistan Telecommunication Company Limited (PTCL) Group – PTCL and Ufone – has successfully concluded its flagship Justuju Internship Program, an exclusive development program for Persons with Disabilities (PWDs) to mark the International Day of Persons with Disabilities, falling on December 03. PTCL Group marks the Int'l Day of Persons with Disabilities.
Enjoy Uninterrupted Connectivity with Ufone
Ufone Pledges Support To Foster Awareness On Breast Cancer
Ufone & Microensure Introduce Family Health Insurance
Ufone collaborates with PBA for 'Mera Pakistan Mera Ghar'
PTCL Group Cements its Market Standing
PTCL Group, in collaboration with the Network of Organizations Working with Persons with Disabilities, Pakistan (NOWPDP), introduced an exclusive six-week internship program aimed at providing equal internship opportunities to Persons with Disabilities (PWDs) at their Headquarters and Zonal Offices.
The internship offered a sound structure and development features where PTCL Group directly mentored 20 interns based in the major cities of Pakistan including Islamabad, Lahore, and Karachi. The main objective of the program was to enable PWDs to be part of the country's mainstream socio-economic system. PTCL Group marks the Int'l Day of Persons with Disabilities
According to a report, about 371,833 people in Pakistan are disabled but that does not mean that they should be restricted in any way. Persons with Disabilities have just as much right to live a normal life as anyone else. This includes earning opportunities and employability as well.
Based on this mantra, PTCL introduced Justuju, a one-of-a-kind internship program last year aimed at enhancing the employability of Persons with Disabilities (PWDs) through skill development, mentoring, and training. The program included a structured professional development plan for the interns, as well as several custom-designed webinars that focused on motivating the PWDs to overcome adversities and coming out on top.
The internship program was conducted digitally for the main part. However, it was also made possible for the PWDs to visit the offices of PTCL and Ufone to work alongside the employees on various projects in person and experience professional work settings.
Mobilink Bank the 'Best Retail Bank in Pakistan'
Mobilink Bank puts Forth Policy Recommendations
REDRETAIL to Offer Mobile Top Up Solutions
JazzCash Brings You Mastercard
Wateen Telecom partners with Punjab Group of Colleges
Zong Wins the 4G Spectrum Auction in AJK & GB
Commenting on the successful program, Syed Mazhar Hussain, Group Chief Human Resource Officer PTCL & Ufone, said, "PTCL Group endeavors to enable PWDs in honing their skills so that they can be well-equipped for today's competitive working environment. Being the national company, we endorse and practice inclusivity where all individuals can contribute to business growth and the country's economy. I am proud of this young and capable group of individuals, who are not only multitalented but also are eager to learn and grow. Moreover, it is an honor for us to provide them with this opportunity that will enable them to realize their full potential to work as professionals."
PTCL Group believes that sustainable, equitable progress of organizations must include persons with disabilities. With initiatives such as this, PTCL is determined to provide an environment of inclusivity, support and empowerment to the disabled. PTCL and Ufone are modifying their office buildings to ensure accessibility, complementing the organization's vision to protect and promote the rights of people with special needs. The organization remains committed to taking similar initiatives in the future, focusing on the capacity-building of youth from all walks of life.
A Daily Chance to Win Up To PKR 100000 with Easypaisa
Easypaisa launches Pakistan's 'digital-first' campaign for Easyload
Easypaisa joins hands with DigiKhata
Easypaisa Reaffirms its Commitment to a Cashless Pakistan
Easypaisa bags 7 Accolades at Effie Awards 2021
COVID-19 Vaccination Certificate through Easypaisa
About Ufone
Ufone is a Pakistani Cellular Company with its presence in all the major cities of Pakistan along with comprehensive coverage across all major towns, villages, and tehsil headquarters of the country. The company employs more than 3,850 people and operates with a network of more than 320 franchises and company-owned customer service centers along with a distribution network of 150,000 outlets nationwide. For more information, visit www.ufone.com.pk.
About PTCL
Pakistan Telecommunication Company Limited (PTCL) is the largest integrated Information Communication Technology (ICT) Company of Pakistan. With a humble start from a telephone and telegraph department in 1947, it has evolved to offer the latest digital and telecommunication technologies today. It acts as the communication backbone for the country with the largest fiber cable network that spans from Khyber to Karachi and submarine cables connecting Pakistan to the world. PTCL has been assigned an initial long-term entity rating of 'AAA' (Triple-A) and a short-term rating of 'A-1+' (A-One Plus). For more information, visit www.ptcl.com.pk