Technology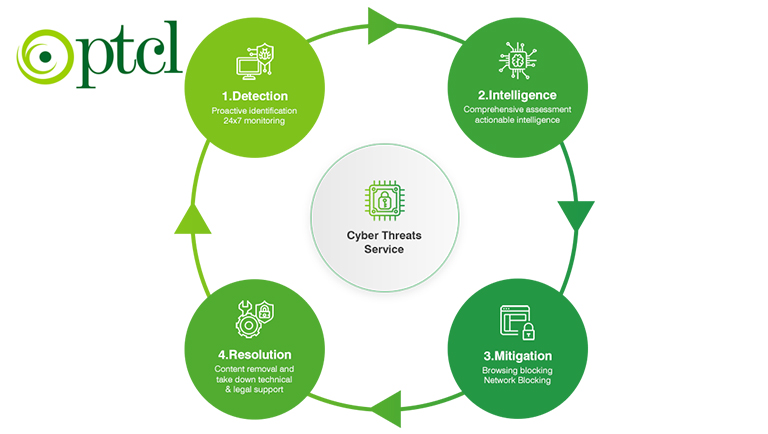 PTCL Launches Cutting-Edge Cyber Security Services
Pakistan Telecommunication Company Limited (PTCL) has launched new cyber security services based on its cutting-edge Security Operations Center (SOC) to protect its corporate and financial customers against cyber-attacks. The SOC-based services will reinforce digital security by building a safety wall against a range of cyber security threats to customers' data, digital assets and infrastructure. PTCL Launches Cutting-Edge Cyber Security Services for corporate customers.
Enjoy Uninterrupted Connectivity with Ufone
Ufone Pledges Support To Foster Awareness On Breast Cancer
Ufone & Microensure Introduce Family Health Insurance
Ufone collaborates with PBA for 'Mera Pakistan Mera Ghar'
PTCL Group Cements its Market Standing
Being an industry first, PTCL's cyber security services are the latest edition to its portfolio and is based on the industry's highest-performing 'integrated' cyber security platform with a rich ecosystem.
The system enables consistent and reliable security across the extended digital attack surfaces including applications, code, ports, servers and websites, as well as unauthorized system access points. To provide end-to-end protection, PTCL is offering seamless interoperability, complete visibility, and granular control for hybrid deployments including hardware, software, and X-as-a-Service across networks, endpoints, and Clouds.
Commenting on the development, Group Chief Information Officer (GCIO), PTCL & Ufone, Saad Muzaffar Waraich, said, "Cyber security is becoming a major strategic priority for organizations in the present-day and our corporate customers depend on our secure and robust services. PTCL Group continues to innovate and modernize its cyber security offerings to live up to their expectations. PTCL Launches Cutting-Edge Cyber Security Services for corporate customers.
Our Security Operations Center (SOC) based cyber security services create an impregnable defensive wall around the digital infrastructure to ensure that our customers' operations and services work seamlessly. We endeavor to stay ahead of the evolving threats and challenges in the cyber world." PTCL developed the Security Operations Center (SOC) to manage and monitor customer infrastructure and services in a managed services model. The platform safeguards their digital assets, data, services and products against cyber threats and also significantly helps reduce their spending on their cyber security infrastructure and its associated operational overheads.
Mobilink Bank the 'Best Retail Bank in Pakistan'
Mobilink Bank puts Forth Policy Recommendations
REDRETAIL to Offer Mobile Top Up Solutions
JazzCash Brings You Mastercard
Wateen Telecom partners with Punjab Group of Colleges
Zong Wins the 4G Spectrum Auction in AJK & GB
About PTCL
Pakistan Telecommunication Company Limited (PTCL) is the largest integrated Information Communication Technology (ICT) Company of Pakistan. With a humble start from a telephone and telegraph department in 1947, it has evolved to offer the latest digital and telecommunication technologies today. It acts as the communication backbone for the country with the largest fiber cable network that spans from Khyber to Karachi and submarine cables connecting Pakistan to the world. PTCL has been assigned an initial long-term entity rating of 'AAA' (Triple-A) and a short-term rating of 'A-1+' (A-One Plus). For more information, visit www.ptcl.com.pk
About Ufone: Ufone is a Pakistani Cellular Company with its presence in all the major cities of Pakistan along with comprehensive coverage across all major towns, villages, and tehsil headquarters of the country. The company employs more than 3,850 people and operates with a network of more than 320 franchises and company-owned customer service centers along with a distribution network of 150,000 outlets nationwide. For more information, visit www.ufone.com.pk