News & Events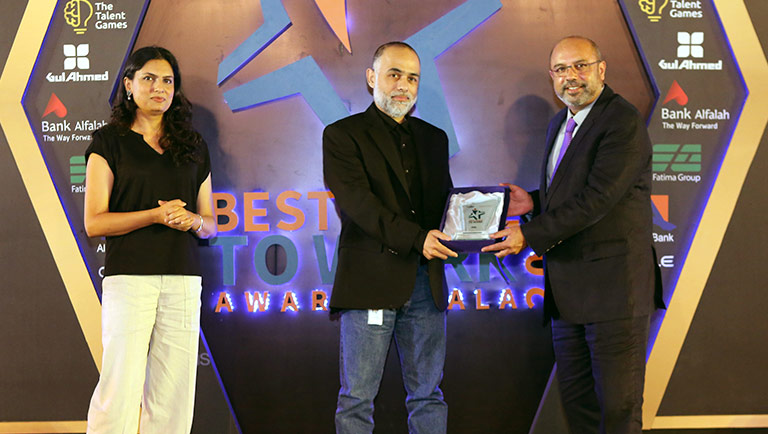 PTCL Ufone recognized as 'Best Place to Work'
Pakistan Telecom Company Limited (PTCL) and Ufone have been recognized at the Best Place to Work Awards 2021 organized by the Pakistan Society of Human Resource Management (PSHRM) and Engage Consulting, during a ceremony held in Karachi. PTCL Ufone recognized as 'Best Place to Work'.
Awards were announced on the basis of independent surveys conducted by PSHRM and Engage Consulting to study human resource management practices and work environments in over 160 companies from all over Pakistan. PTCL won the award for the "Most Improved Score" while Ufone bagged the accolade for the "Best Place to Work (Telecom Industry)".
Enjoy Uninterrupted Connectivity with Ufone
Ufone Pledges Support To Foster Awareness On Breast Cancer
Ufone & Microensure Introduce Family Health Insurance
Ufone collaborates with PBA for 'Mera Pakistan Mera Ghar'
PTCL Group Cements its Market Standing
Syed Zulfiqar Ali Zaidi, Group EVP HR Strategy, Digitalization & Governance (PTCL & Ufone) represented the group at the event. CEO Meezan Bank and President of the Overseas Investors Chamber of Commerce & Industry (OICCI) Irfan Siddiqui was the chief guest; while President & CEO National Academy of Performing Arts (NAPA) Zia Mohyeddin and Co-founder & Chief Operating Officer of Sehat Kahani Dr. Iffat Zafar Aga delivered the keynote speech. PTCL Ufone recognized as 'Best Place to Work'.
"I am glad to accept the awards that recognize our efforts for making PTCL and Ufone inclusive, diverse and conducive workplaces for everyone alike. We have invested a lot of effort in creating an open, equitable and meritorious work culture to spur initiative, innovation and team building. PTCL Group endeavors to realize its vision on diversity and inclusion by providing equal growth opportunities for not only men but also women as well as differently-abled individuals."

Syed Mazhar Hussain, Group Chief Human Resources Officer PTCL Group expressed his delight by saying,
Mobilink Bank the 'Best Retail Bank in Pakistan'
Mobilink Bank puts Forth Policy Recommendations
REDRETAIL to Offer Mobile Top Up Solutions
JazzCash Brings You Mastercard
Wateen Telecom partners with Punjab Group of Colleges
Zong Wins the 4G Spectrum Auction in AJK & GB
PTCL's and Ufone's recognition at the biggest gathering of the country's HR fraternity will further solidify their resolve in providing a more productive work environment for their employees.
---
About PTCL
Pakistan Telecommunication Company Limited (PTCL) is the largest integrated Information Communication Technology (ICT) Company of Pakistan. With a humble start from a telephone and telegraph department in 1947, it has evolved to offer the latest digital and telecommunication technologies today. It acts as the communication backbone for the country with the largest fiber cable network that spans from Khyber to Karachi and submarine cables connecting Pakistan to the world. PTCL has been assigned an initial long-term entity rating of 'AAA' (Triple-A) and a short-term rating of 'A-1+' (A-One Plus). For more information, visit www.ptcl.com.pk
About Ufone: Ufone is a Pakistani Cellular Company with its presence in all the major cities of Pakistan along with comprehensive coverage across all major towns, villages, and tehsil headquarters of the country. The company employs more than 3,850 people and operates with a network of more than 320 franchises and company-owned customer service centers along with a distribution network of 150,000 outlets nationwide. For more information, visit www.ufone.com.pk