Social & Digital Media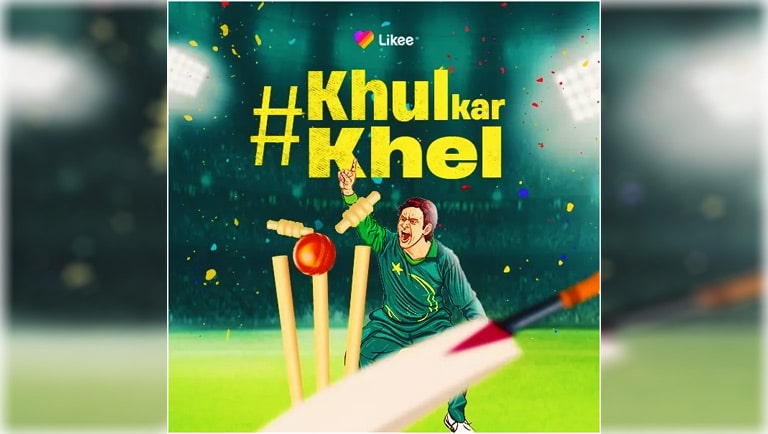 Likee Launches #KhulKarKhel
Likee, Pakistan's leading short-video sharing platform, is resonating the nation's zeal towards supporting the cricket team during the ongoing ICC T20 World Cup with the #KhulKarKhel. With the short format of the game in full swing, Likee is encouraging its users to post short-form video content and become part of a collective digital celebration occurring across the country. Likee Launches #KhulKarKhel
The ICC T20 World Cup 2021 began with a lot of zeal and fervor but the joyous nature of the tournament was compounded when Pakistan's national team began displaying exceptional performance. The population in the country that is already passionate about cricket is now witnessing new heights of happiness and excitement. Likee is personifying these emotions by giving people across the country a chance to show their love for the sport and the national team through one of the most catchy forms of content. All you need to create a video is a cricket shirt, bat or ball, and a green/white background. Other than these basic mandatory elements, only imagination is the limit for content creators.
"In Pakistan, there is a passion for the sport of cricket that runs deep. After experiencing the nation display such strong connections to the game, Likee decided to initiate a trend that enable millions of people from across the country to come together and put their love out in support of our 'Men in Green'.

Commenting on the development, Likee Representative stated
With the latest hashtag #KhulKarKhel we are bringing together every single person around Pakistan on one platform to deliver a cohesive yet powerful message not just to boost the team's morale but to showcase to the world how this country feels." Likee is one of the premier short-video creation and sharing platforms that has risen to significance in Pakistan. The platform continuously initiates trends and campaigns that can deliver strong messages to various audiences. Likee Launches #KhulKarKhel
---
Likee Becomes Hub for Beauty & Style Trends
Likee promoting National Talent with Talha Talib
Likee launches #LikeeGamingZone
4 Success Keys to be Short Video Creator
Winners of Likee Team enjoyed the spotlight
Know How to Protect Your Personal Data on Social Media
Likee celebrates Independence Day with Talha Talib
Likee: Empowering creators from Karachi to Gilgit Baltistan
Likee Celebrates its 4th Anniversary
---
About Likee
Likee is a leading global platform for creating, viewing, and sharing short-form mobile videos. Its superior video editing tools inspire real-life creativity with over 2,000 effects. Likee offers you an opportunity not only to be seen and heard but also to shine. Here you belong to a creative community that never stops making a rainbow of videos and interacting as a family. Likee launches #LikeeGamingZone for its gaming enthusiasts
Made by Singapore-based BIGO Technology and launched in 2017, Likee has been one of the most popular short-video communities in the world and ranked the fourth most downloaded social media app worldwide according to Sensor Tower in January 2020.
---
External Links
Source: https://www.mediamatters.com.pk/